Watershrines


Yaatzil Ceballos seeks to repair our relationship with water through four interactive installations or 'shrines'. The audience goes through a process of analysis, reflection, and appreciation in order to replant the way we consume this valuable resource. Ultimately, Ceballos calls attention to our wasteful behavior towards a resource that we are completely dependent on as a society, and yet, is becoming scarce in urban landscapes like London as well as the world.


How can a new ethos for care for water can be instilled in the public imagination?


In cities, the quantity and quality of water that is required for maintaining the growing population are very high. The crucial role of societies' wasteful habits related to water and the negligence of the urban water bodies provides the starting point for this project. In a multicultural and fast-living urban society, there is a need for us all to take a moment to reconnect with the value of water.



Realized through a series of installations forming a trail experience along Regent's Canal, London, Watershrines provides a platform to practice a new ethos of care for water. By using the concept of shrines as symbols of veneration and appreciation, Watershrines translates these principles into a wider narrative landscape, where the water is perceived as a treasured wholly life-sustaining resource. The shrines are activated by performing a secular ritual, such as the act of filtrating the canal water with special and 'sacred' tools.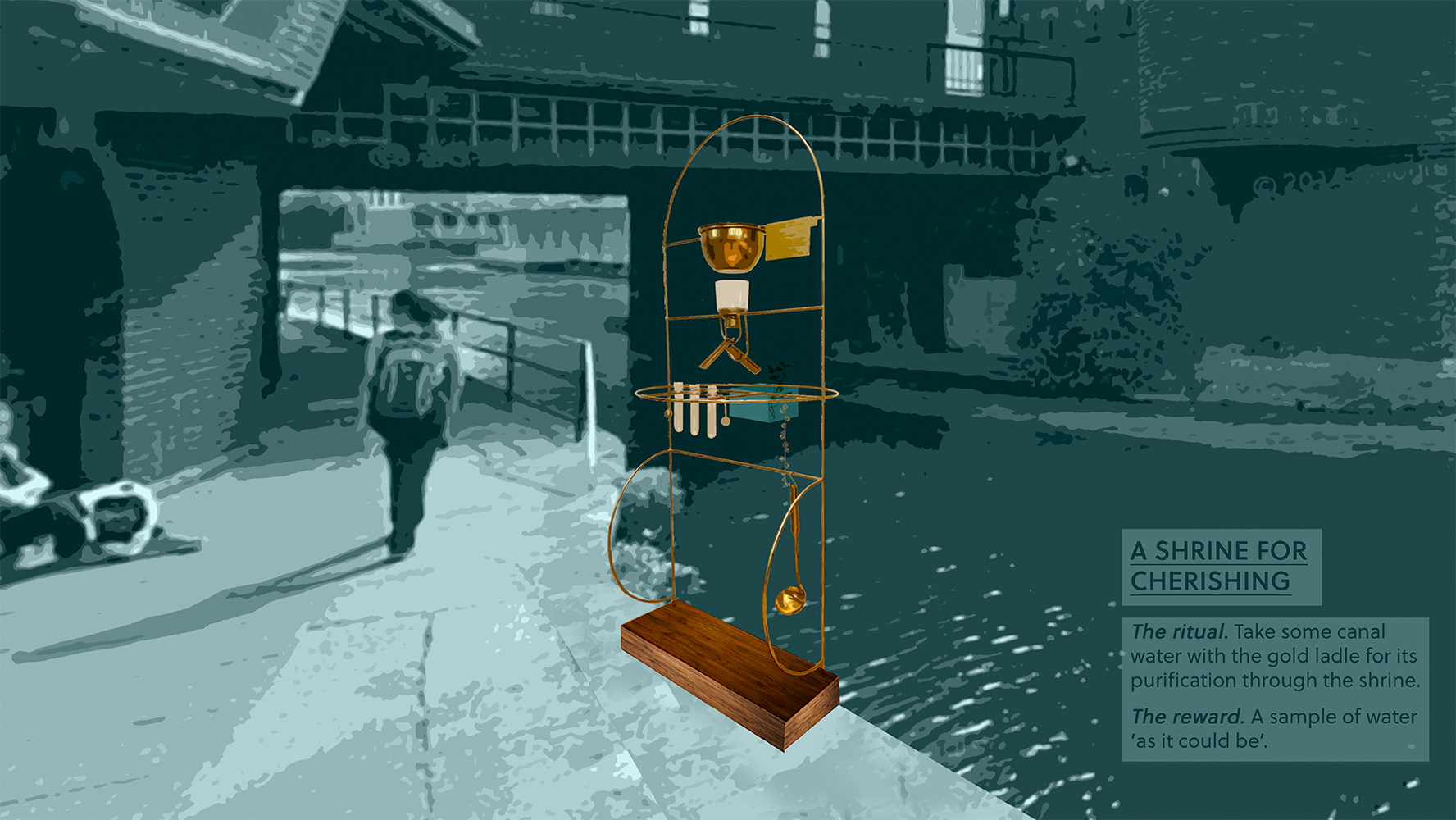 Slide to see each shrine

As part of the trail experience, the audience collects four different types of water through the indicated rituals in each shrine: as it is, as it could be, the non-existent and as nature's gift. For completing this, the visitor requires a special kit included in the experience.


The reason behind this project


London is forecast to have a water resource gap of over 100m liters per day by 2020 (London's Environment Strategy 2018). To remain sustainable, water consumption per person needs to reduce. London's waterways can also play a strategic role in relieving the predicted water stress. For example, the canals could offer a way to transport water from areas with excess to areas of need. However, London's dwellers tend to pollute the waterways by dumping rubbish, especially into the Regent's Canal. This problem continuously blocks the waterways infrastructure, provoking a difficult sustainable water flow.

If citizens were able to recognize water as a valuable and treasured resource, a decrease in wasteful water-related habits and an increase in the care of the urban waterways could result, helping exponentially to alleviate water stress. The Watershrines rituals act as catalysts for rethinking the way we use, contribute to clean and recycle water.


---
About the Artist

Yaatzil Ceballos
is a multidisciplinary designer with a BA in Architecture from Universidad de las Américas Puebla, Mexico. She has professional experience in architecture, photography, pop-up installations, interior, furniture and graphic design in Mexico, Chile and London. As an architect, Yaatzil has worked with two of the most influential architectural studios in Mexico City: Iñaki Echeverria and Materia Arquitectónica. In the latter mentioned, she led The Water Hotel boutique and The QMM Cultural Center projects. In 2018, Yaatzil's documentary photography was selected by the Mexican National Art Network to exhibit in different galleries. Her architectural photography has been published in different renowned design platforms, such as
Arquine
(Mexico),
Glocal
(Mexico),
Archdaily
(Chile),
Retail Design Blog
(Hungary),
Artec3
(Spain), and
AN magazine
(Italy). Her installations have been nominated to different awards, such as Maison/0 GreenTrail (Watershrines project, 2020), Climate Care Award for Spatial Practices (Watershrines project, 2020), Paddington Connections open call competition award (Vibrant Paths project, shortlisted 2019).
www.yaatzilceballos.com