Why it's so Easy for Fashion Designers to Steal from Peru and its Indigenous People

The appropriation of Peruvian culture and garments by international fashion designers reveals a much deeper problem of institutional neglect within the country.

By Valeria Ghersi



Women photographed by Martin Chambi in his studio in Cusco. Both wear indigenous clothing such as woven ponchos, aguayos (woven textile) and polleras (skirts).




Peru is the prettiest in January when the sun –after which we named our currency– visits our coast, jungle and highlands. Its capital is sombre but charming in July when the sky turns grey, but not any grey, the kind of grey you can find under a donkey's belly –as fittingly described by Peruvian writer Héctor Velarde Bergmann–, a grey so overpowering that it caused the city to be nicknamed Lima La Gris. It is ugly when prime time local TV shows air "comedians" performing skits in blackface, brownface and yellowface. It is cruel when citizens born in the capital shout racial slurs at Andean women wearing their colourful polleras in the streets. It is painfully ignorant when despite hearing the complaints of its Indigenous people it won't acknowledge it has normalized racist and oppressive behaviours towards them. Under our neutralizing grey sky it is easy to see how we paint the city with bright yellows and greens but also how the paint has been smudged by tears and blood.

Throughout Peru, its Indigenous communities are especially recognisable by their beautiful and distinctive garments; as a consequence many of them become the target of discrimination. Ultimately some distance themselves from them and adopt a more westernised way of dressing. Going even further back, to when the Spaniards colonised Peru, decrees where in place that prohibited people from wearing Peruvian traditional garments, which definitely still have a effect on how Peruvians dress and their views on traditional attires. Currently on record there are 55 Indigenous communities in Peru. The Quechua –who live in the Peruvian highlands and also in parts of Bolivia and Ecuador– wear woven blankets over their shoulders called llicllas and chullos on their heads, while the Asháninkas –from Junín, Ayacucho, Ucayali, Pasco, Huánuco and Cusco– wear tunics called cushmas and headpieces adorned with feathers for special occasions. There are countless more Indigenous communities, each with specific garments and traditions that make Peruvian culture infinitely richer. Their traditional attires are all incredibly striking, but we have somehow been tricked into believing that these garments are now a part of ancient history and have no place in contemporary Peru.


Couple from Tinta photographed by Martin Chambi


It was only on the 15th of October of 2020 (three days after Indigenous Resistance Day) that the offensive "character" played by Peruvian "comedian" Jorge Benavides, La Paisana Jacinta, was banned from ever being aired again by the Judicial System. La Paisana Jacinta first aired in 1999 and it has continued to reinforce negative and racist stereotypes of the Indigenous Peruvian Andean woman for years. Benavides' productions regularly showcase actors performing not only in blackface, brownface and yellowface but also wearing nose, lips and even eye-shape-altering prosthetics in vulgar "imitation" of whoever they are mocking that week. Over Zoom, Tarcila Rivera, an Indigenous Peruvian woman who has been an activist for Indigenous rights for over twenty-five years, tells me:


"We [Indigenous women] [want to show the image], designs, costumes, life, knowledge, culture and textiles [of Indigenous communities] in a dignified way. We don't want to be seen as La Paisana Jacinta."


Previously, in August of 2020 Peruvian professional surfer, Vania Torres, dressed as a Peruvian Indigenous woman –brownface included– while promoting makeup-removing wipes to her 58,700 Instagram followers. The (restricted) comments under her apology video –recorded after receiving backlash and in which she refused to acknowledge her wrongdoing– were even scarier to read. Most of them argued she had done nothing wrong, while the media, which had covered the news of her racist actions, only weeks later dutifully reported on Torres preparing for upcoming surf championships. The same year, news of the Black Lives Matter protests around the world –triggered by the brutal murder of George Floyd at the hands of policemen in May of 2020– reached Peru and caused a wave of "social media activism," but also highlighted one of the many hypocrisies inside a country that was forever changed after being violently colonised. "Si choleas, quita tu post" [If you choleas, remove your post] was the slogan many repeated and reposted. Cholear refers to when people use the term cholo –used to refer to a person with mixed-blood heritage– as an insult, in a racist and derogatory manner. These posts highlighted that many alleged supporters of the Black Lives Matter movement in Peru were merely hopping on what they considered a "trendy North American movement" and were in fact racist in their own country.


Isabel Mamani, Cuzco Peru (1948) by Martin Chambi

Most non-white Peruvians are discriminated against on a daily basis. Not only in a wider cultural context within Peru and the world, but as clothes and identity are so closely linked, this has also trickled down into international fashion, where original designs belonging to Indigenous communities are often used without asking for permission, giving credit or as a mere aesthetic that is never fully understood by neither the maker nor the viewer.

For example, for his

AW17 menswear collection

Dries Van Noten presented knitted sweaters "inspired by" a traditional Peruvian knitted llama sweater. His design was a direct copy of the originals, which was invented in the Andes and was handmade–usually from alpaca yarn–by its residents to be worn amongst themselves. Due to the llama-figure they showcased they became very popular amongst tourists and are currently sold almost everywhere in Peru alongside other souvenirs. They have become the main source of income for the artisans producing them. Their price point is around 50 soles (roughly £20) while Van Noten's retailed for roughly £700 at the time and were produced in Belgium. At the

2017 BOF Voices Summit

–after receiving backlash for the sweater– the Belgian designer stated, "I was told I was a thief. It does not make sense to me as a citizen of the world that the only culture I am allowed to think about is Belgian folklore. Of course, we must be careful and sensitive. But why is it so different from a Belgian chef using olive oil?" His metaphor falls flat. Olive oil is an ingredient–not the main course. It is purchased to cook, the sartorial equivalent being if he had purchased alpaca yarn and had created his own design.

"We stand against the illicit appropriation of designs and resources that originate from the knowledge of Indigenous people. It's not fair that we are in the sector of extreme poverty when others enjoy the benefits of using our resources and arts. Peru would be greatly benefited if we had a government that defended its patrimony. All of this contributes to the economy but it is not valued," Rivera states.


Asháninka Necklace, still from Museo Central - Vestimenta Tradicional Asháninka

In 2017 designer Naeem Khan was invited to Peru by PromPeru –a commission in charge of promoting the country in order to encourage tourism and exports. In 2018 his

Autumn/Winter collection

was partially inspired by Cusco's traditional embroidery, boots, hats and llicllas (woven blanket). This was the government's intent when they invited the Indian-American fashion designer to Peru, to have our wonderful textiles and craftsmanship showcased on an international platform such as NYFW. However, in a

Vogue review

by Brooke Bobb there is no mention of Peru at all, while in

WWD's review

by Andrew Shang they vaguely mention Khan "blended Italian textiles with artisanal Peruvian handwork…" Additionally, the casting was predominantly white. Wouldn't government funds be better invested by supporting local talent? We should not aim for our stories to be told by others and we must learn to value the richness of our own country before looking outside. The common concept that exists in many South American countries of thinking that "foreign is always better" was never true and is now more than ever extremely out-dated. "As a, sadly, colonist and racist country almost none of the state officials know about the advances that have been made in regards to the rights of Indigenous communities. Because they simply think there aren't any…" Rivera states.

In 2005 while working at Dior, John Galliano presented his

Autumn Winter Couture collection

. Although it was not entirely inspired by the Peruvian Indigenous women of the highlands, it was clear that her traditional attire had influenced him. Four out of the forty-three looks in the collection showed this very obviously. The renowned polleras, rounded hard hats, colour palette, embroidery, fabrics (especially one resembling the lliclla), silver handcrafted tupus (pins) and braided hair worn by the Peruvian and Bolivian Andean Women where all reinterpreted by the designer who was famous for 'borrowing' from other cultures at the time. Yes, this was 15 years ago, and as technically this was a couture collection he might not have made money directly from these looks, but what remains the same is the lack of intent to involve the people whose cultures are referenced and the idea of taking from them but giving nothing in return. It is frightening to see that so little has changed in all this time. Additionally, it comes as no surprise that the four looks which were strongly inspired by the Andean women were worn by white models. It is an incredibly horrid paradox that these white women are applauded and considered glamorous by the spectators when the women who inspired the garments are discriminated against for wearing the originals.

Galliano's AW02 collection

also featured hats heavily inspired by the Peruvian chullo. Almost twenty years later, on the 24th of February of 2021, a hat from the AW02 collection was worn by FKA twigs on the shoot for the cover story of the most recent issue of The Face magazine. The hat was borrowed from the Mr Steven Philip Studio collection, who in an instagram post described it as a 'Mohawk hat', which was partially the inspiration for its shape but the main inspiration –the Peruvian chullo– was mentioned nowhere.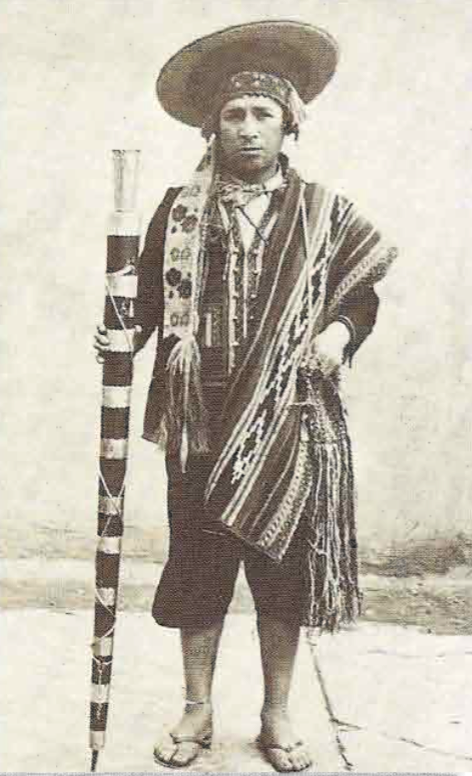 1. Man from the Peruvian Andes wearing knitted and embroidered garments, from Vestidos Populares Peruanos by Arturo Jiménez Borja 2. Ashaninka amatsairentsi (crown) made of the carrizo plant and feathers (XX century), still from Museo Central - Vestimenta Tradicional Asháninka

Vivienne Westwood's

AW Gold Label 2014 collection

presented during Paris fashion week was partially inspired by the Peruvian Asháninkas. This happened two years after Westwood and Andreas Kronthaler visited Peru, invited by

Cool Earth

, a non-profit organisation working alongside rainforest communities to help them stop deforestation and climate change, of which they are patrons. Matthew Owen, the organization's director, tells me they joined the trip to, "see the rainforest that their fundraising is helping protect and to speak with the community [about] how they could support Cool Earth partnerships further, with the aim of raising both funds and awareness on their return." The AW14 collection was one of the fundraising events that resulted from their visit. The funds gathered went to Cool Earth's projects to support the Asháninkas, which not only include financial support but also helping implement a sustainable agroforestry system for the Asháninkas' coffee and cacao production. Unlike it is often seen, in this case the community that inspired the garments actively participated in some aspects of the show, "Jewelry designed and made by Asháninka artisans featured in Vivienne Westwood show. The show raised awareness of the Asháninka people and their fight to protect their forest amongst both the media and Vivienne's large fanbase, whilst raising money for the partnership directly," Owen says, which was done by asking attendees to make donations at the event. But, does Westwood put her money where her mouth is? In this case the answer seems to be yes. Westwood donated £1 million to Cool Earth after returning home from her trip to Peru, which the organization used to expand their work with the Asháninka community, who have to constantly fight to protect the forest in the Peruvian Amazon. Whilst in Peru, alongside Cool Earth representatives, Westwood and Kronthaler also met with the Vice Minister of the Strategic Development of Natural Resources "and discussed how Vivienne and Andreas could use their global platforms to raise awareness of the importance of local people protecting the rainforest." Protecting their rainforest remains one of the biggest issues faced by Indigenous communities from the Amazon. In December of 2020, eight leaders from Indigenous communities located in Huánuco and Ucayali were forced to travel to Lima to demand protection from the government, as they had received

continuous death threats

from drug trafficking mafias and illegal loggers. Before this at least four Indigenous leaders had already been assassinated –in 2020 alone– for defending their land.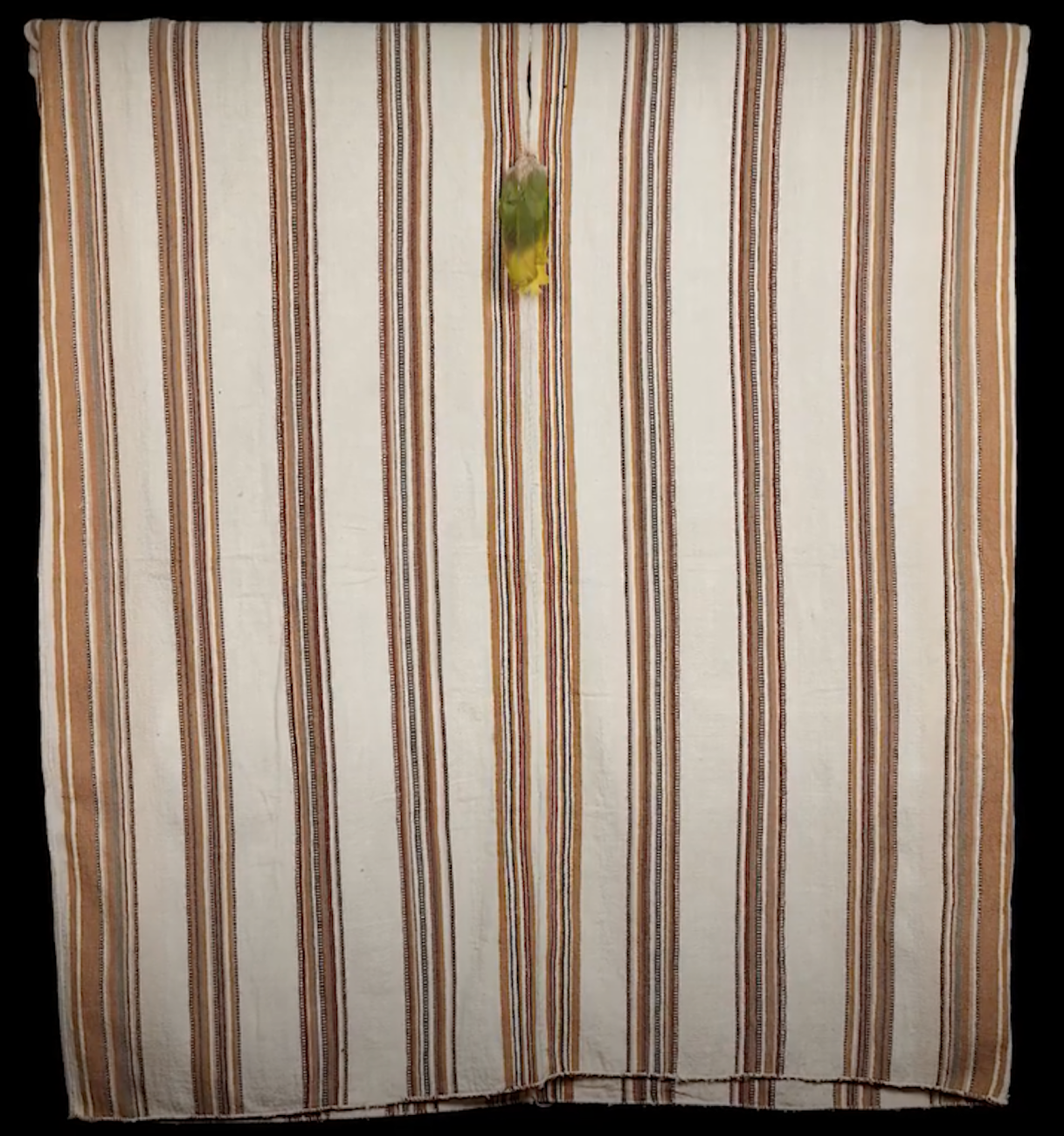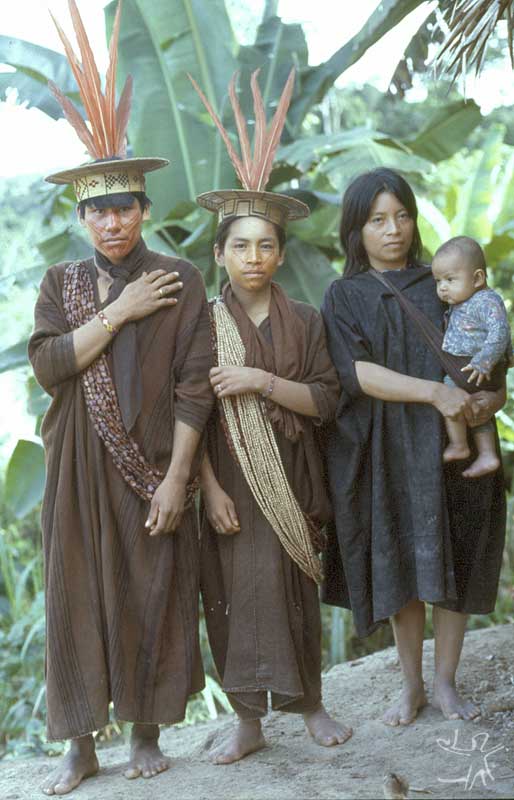 1. Asháninka people wearing cushmas (tunics), amatsairentsi (crown) as well as beaded and woven aparinas (diagonal belt), photographed by Mauro Almeida 2. Asháninka Cushma, still from Museo Central - Vestimenta Tradicional Asháninka

Out of all of these examples –excluding Westwood's work with the Asháninkas, which was a mutually beneficial collaboration– something that stands out is the passivity and lack of action from the Peruvian government to defend the intellectual property (IP) of their Indigenous communities. In Mexico, when the design of a poncho from the Purépecha community was copied by Isabel Marant, the Mexican Minister of Culture, Alejandra Frausto Guerrero, immediately

issued a letter

directed towards the label calling Marant out for cultural appropriation. She cited

resolution 33/20

adopted by the UN Human Rights Council in 2016 regarding the cultural rights and the protection of cultural heritage,

The American Declaration on the Rights of Indigenous Peoples

, The UN

2030 Agenda for Sustainable Development

and UNESCO's

Convention for the Safeguarding of the Intangible Cultural Heritage

and demanded a response as to how the use of these designs would be beneficial for the communities who created them. The label then offered a questionable apology in the form of

a letter

that stated they were saddened that their poncho "was perceived as" cultural appropriation and that "if" they had disrespected the Puréchepa community they offered their sincerest apologies. However, the fact that a government protected their Indigenous people and that this lead to an apology from an international label –who stated they remained at the Mexican's government disposal to consider joint actions– made a clear statement: they would not allow this to happen, and this was major. "Indigenous women consider that the government should defend the IP rights of Indigenous and national patrimony, such as the arts and designs inherited from our elders as a heritage from past civilizations," Rivera firmly states.

Josefa Nolte is the former General Director of the General Directorate of Crafts, which is part of the Peruvian Ministry of Foreign Trade and Tourism. When active in the position Nolte, alongside her team, worked directly with Indigenous communities to help them improve the production, management and processes of artisanal goods. She tells me that currently there is no inventory of the different traditional garments belonging to Indigenous communities. This is the first big hurdle faced in the journey for the protection of the Indigenous communities' IP. If traditional garments are not properly documented, how can they be protected? "There are no laws that protect collective intellectual property, there is no jurisprudence in this regard," Nolte comments. Even though her department could not legally do anything about this issue she states that many designers have (and continue) to copy designs created by Indigenous communities and only in very few cases the designers give credit to the creators and pay the rights to use their design. When asked if it would be possible to contact a private organisation to protect or fine these copies she replies, "This should happen but [it does not as] there are no laws to protect them. What has worked is when pressure is applied by the press and through social media. There are no protocols in place." Fashion law specialist, Annalucia Fasson Llosa, confirms, "In Peru there is still no law regarding cultural appropriation, a project was presented a couple of years ago but it did not prosper," for unknown reasons.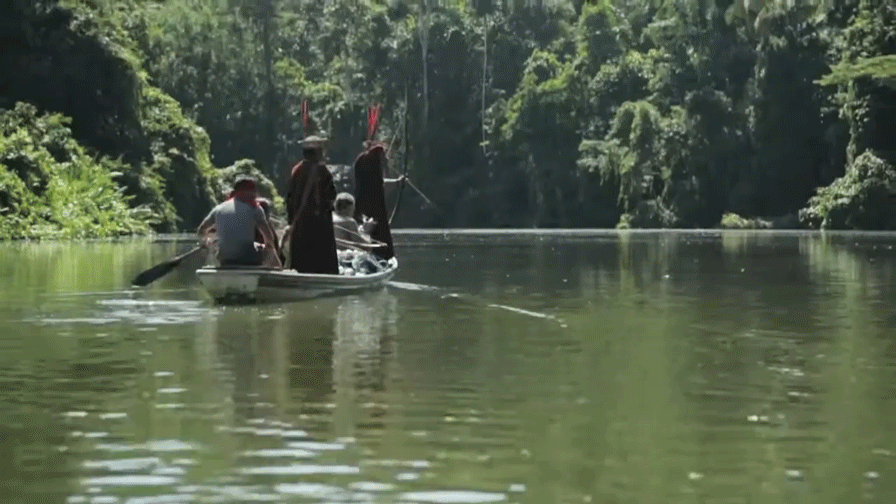 Cushma and amatsairentsi as worn by Ashaninka peoples, courtesy of

Instituto-e


INDECOPI (The National Institute for the Defence of Competition and the Protection of Intellectual Property) says they cannot protect garments belonging to Indigenous communities, such as the Ashaninka's cushmas, because they do not comply with the novelty requirement for them to be protected under a patent or under Author's Right. They state that the design needs to be new and original to be protected by INDECOPI, therefore traditional garments that have been around for decades and who do not have identifiable 'natural authors' (specific people that can be named) cannot be protected through them and are now public domain. Using patents in INDECOPI for example, you could protect a new and specific design of a cushma but not the cushma as a whole as it is now public domain and is not "new". INDECOPI does however protect traditional knowledge of Indigenous communities regarding biodiversity (

Law Nº27811

), such as their knowledge regarding medicinal plants; therefore it is still unclear why something similar could not be put into place regarding garments and textiles. There is a legal regulation included in the

Decision 486

of the Andean Community in place that states that "Signs whose use in commerce would improperly affect a third party's right may not be registered as trademarks, in particular when:… they consist of the name of Indigenous, Afro-American or local communities, or the names, words, letters, characters or signs used to distinguish their products, services or the way they are processed, or that constitute the expression of their culture or practice, unless the request is presented by the community itself or with its express consent… ". This however only offers protection within the Andean community and additionally INDECOPI can only offer protection inside of Peru therefore has no jurisdiction over copies that occur internationally. It is also important to consider that Peru's economy is mainly informal. In August of 2020

Gestión newspaper stated

that economist Kurt Burneo estimated the percentage of informal economy has risen to 90% while economist Cesar Peñaranda estimates it was around 80%. Most people in Peru do not register or formalise their businesses due to their inability to afford paying taxes and other costs mandatory for formal businesses, and therefore do not comply with the Decision 486 or any other for that matter.

In 2017 the World Intellectual Property Organization (WIPO)

published a guide

, which explains how Indigenous communities can indirectly protect their culture through tools provided by Intellectual Property such as Geographical Indications and Trademarks. This seems to be a ray of hope but of course the methods described are dependent on the laws of each country –some of which apply in Peru, like indirect protection through Distinctive Signs which can be provided by INDECOPI, and some which don't. It is also important to question how accessible this information is to most Indigenous communities in Peru and if they are provided with enough assistance through the legal process, which can often require financial funds. When asked if they could interfere when designers from other countries copy designs belonging to Peruvian Indigenous communities –as it happened in Mexico in the example previously mentioned– the Directorate of Intangible Heritage of the Peruvian Ministry of Culture did not comment on the subject.


Asháninka women wearing cushmas, still taken from Museo Central - Vestimenta Tradicional Asháninka

In 1994, Peru was one of the countries that ratified

Convention 169

from the International Labour Organization –a specialized agency of the United Nations– which has two main principles: the right of Indigenous peoples to maintain and strengthen their own cultures, ways of life and institutions, and their right to participate effectively in decisions that affect them. The ratifying members of an

ILO convention

commit to adapt national legislation and to develop the pertinent actions in accordance with the statements encompassed in the Convention.

Article 31

of The United Nations' declaration on the Rights of Indigenous People, adopted by the General Assembly in 2007 and for which Peru voted in favour of, states "Indigenous peoples have the right to maintain, control, protect and develop their cultural heritage, traditional knowledge and traditional cultural expressions, as well as the manifestations of their sciences, technologies and cultures, including human and genetic resources, seeds, medicines, knowledge of the properties of fauna and flora, oral traditions, literatures, designs, sports and traditional games and visual and performing arts. They also have the right to maintain, control, protect and develop their intellectual property over such cultural heritage, traditional knowledge, and traditional cultural expressions."(access the whole text

here

). So why isn't enough being done to set a precedent that states that it is not acceptable for people to take from Indigenous communities' culture without their consent? Why aren't governmental authorities speaking up or taking action when international copies happen? Why are we letting this happen over and over again?

Until we as a country start valuing, respecting, safeguarding what is ours and fighting our internal battles we won't be able to become a united front to stand up against others appropriating our cultures and taking advantage –whether intentionally or not– of the most underprivileged people in Peru. "[People] simply need to value the designs and take into consideration the communities that have maintained and inherit those designs… and respect them. Respect begins by consulting, asking for our opinion and involving us," Rivera states.


---
A Detailed look at the Beautiful Garments of Indigenous Peruvian Communities



Images from Vestidos Populares Peruanos by Arturo Jiménez Borja
1. Shipiba Chemise 2. Rigid Poncho with Jaguar Skin from Puno 3. Wool Chumbis (girdles)

Although it would be impossible to go through every aspect of the garments belonging to the Indigenous people of Peru, as there are over 55 different communities, I will briefly talk about some sartorial elements belonging to Indigenous communities in the Peruvian highlands and the Peruvian amazon. It is important to note that the way Peruvians dress has become considerably more westernised as time has gone by, but there are still Indigenous communities that maintain their traditional way of dressing, while some have adapted it and others wear their traditional garments only for special occasions.



Poncho (left) and Chullos (right) from Cusco

In the Andes the Quechuas are constituted by different towns who speak Quechua as their first language. Men tend to wear chullos on their heads, short black trousers and chemises –usually white– known as aqsu and huwuna covered by colourful woven chilikus (similar to a poncho or vest). The women wear black skirts or polleras, usually embroidered with colourful designs, woven blankets over their shoulders (like a shawl) known as llicllas and colourful girdle-like belts called chumpis. Most of these, and the fabrics used to make them are manufactured by their wearers. In the Andes, most women and men wear shoes called are ojotas. In the past these black sandals were made from leather, which adjusted to the wearer's feet as it dried, but now they are also made from old car tyres, which are cleverly cut and repurposed into shoes. The Spanish influence is often visible in some of the garments of the Andes. In Puno for example, (specially for festivities) women wear embroidered shawls with long fringes similar to the shawls from Manila, the capital of Philippines, which was formerly a Spanish colony.


1. Asháninka Cushma (Tunic) 2. Aguaruna Tarachi (belted tunic) 3.Shipibo men wearing cushmas 4. Shipiba Cushma

In the Peruvian Amazon the Ashaninka's garments are made with vegetable fibres, mostly natural cotton. The most common garment, worn by both men and women is called cushma –which is also worn by Shipibo men, now mostly exclusively for special occasions. The ones worn on a daily basis are usually monochrome while the ones worn on special occasions are covered in intricate geometric designs. Asháninka women are taught how to make cushmas by their mothers –who are taught by their mothers. First they spin the cotton using a wooden spindle, then they dye the threads using plants like the kamanporiki and tree bark and finally they weave them using a backstrap loom. Cushmas worn by women are slit horizontally from shoulder to shoulder for the head opening (representing fertility) while men's cushmas are slit vertically from chest to back (representing virility). Different accessories made out of seeds, such as necklaces, are also used to adorn their garments. Asháninka men weave crowns know as Amatsairentsi out of reed, their decorations –which can include macaw feathers– depend on the role of the wearer. They can serve to indicate positions of power such as who the leader or best warrior is and are also worn by female leaders.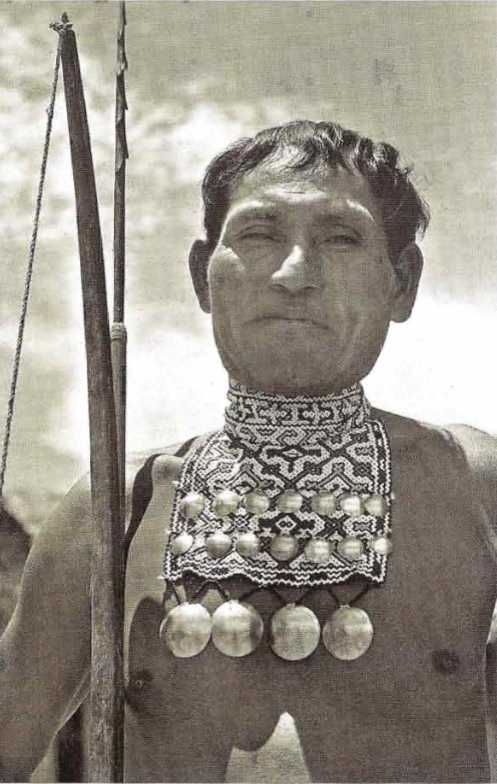 1. Shipibo Chief wearing a beaded choker 2. Shipibo man wearing a chest piece and choker 3. Beaded Shipiba chokers


---
About the Author
Valeria Ghersi is a Fashion Journalist and writer born in Peru.
In 2016 she moved to London to study a foundation course in Art and Design at Central Saint Martins, specialised in Fashion Communication. In 2017 she started her BA in Fashion Journalism at the same university. She is currently in the final year of her BA and will graduate in July 2021.
During her time in London, Valeria has interned at Alexander McQueen and Maison Assouline, among others, and has written for print and online publications such as LOVE Magazine, LATEX Magazine and MW Magazine. In addition to her interest in journalism, she also likes to work with photography, video, and painting. Her focus is on writing about Peruvian and Latinx culture and talent as well as practicing sociocultural investigative journalism.
She is currently working on starting her own publication to celebrate, highlight and show the diversity within the Latinx culture, which will be launched in May 2021.
Key words: value, respect, safeguard.
@valeghersi
email:
vghersiv@gmail.com